This past fall the ISA Edmonton Section hosted a "sold-out" tour group of over 40 automation professionals at C-FER Technologies for a tour that impressed!
ISA Influencer Perspective…
Robert "Bob" LeBlanc, Sr. Technical Sales Specialist from DistributionNOW and ISA Edmonton Section Member, attended the tour; the ISA Edmonton Section asked him to weigh in with his thoughts of the tour.
"I have travelled extensively throughout Eastern Canada, selling a variety of equipment to many research facilities. I have worked with many scientists and engineers from the National Research Council, CANMET and Atomic Energy Canada to various research groups in numerous universities and government facilities. C-FER is a world-class facility with world-class scientists, engineers, technologists and technicians."
The ISA Edmonton Section recently caught up with Brian Wagg, Business Development Director at C-FER, to find out more about their automation-related work…
When it comes to automation, this state-of-the-art research and laboratory facility focuses on 3 main areas:
Using Automation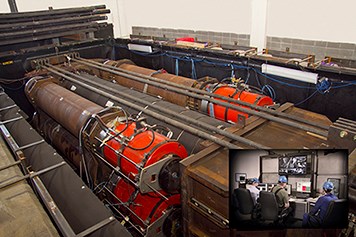 C-FER technicians utilizing automated instrumentation to remotely monitor loads, pressures, temperatures, displacements and strains on pipe specimen during testing.
C-FER conducts a wide range of large-scale tests on oilfield equipment. Each test requires custom built control and monitoring systems using LabVIEW.
One testing system controls a multi-component, servo-hydraulic system with a total load capacity of 16 million pounds.  This is used to determine the tensile capacity of large diameter pipe for gas pipelines.
Automation of the heating and cooling systems used for testing the performance of high-temperature well casing connections has reduced temperature cycle time by 40% while improving temperature variance from the target to less than 2°C. All of these systems are being continuously updated to improve the accuracy and efficiency of conducting the tests.
Improving Automation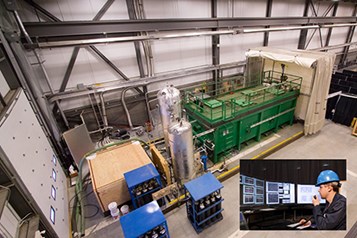 Monitoring performance of cable-based leak detection technologies in C-FER's  External Leak Detection Experimental Research (ELDER) test apparatus.
C-FER helps its clients evaluate the commercial automation systems that they use to monitor oilfield processes.  For instance, pipeline leak detection systems can use a variety of sensors that are installed on or near the pipe such as distributed temperature and acoustic systems based on fibre-optic cables. It is difficult for operators to select appropriate systems for a given pipeline because it is not practical, or environmentally responsible, to release liquid hydrocarbon products into the environment to test the performance of these systems in the field. Field pilots may also be ineffective because pipeline leaks are so rare that a leak detection system may function for the entire service life of the pipeline without ever being exposed to a real leak. The challenge then is to create a laboratory test that replicates the key components of the pipeline operating environment and to simulate events that are representative of actual leak events.
The ELDER (External Leak Detection Experimental Research) system does just this. Multiple leak detection systems, operated by various vendors, are installed around a simulated pipeline and exposed to a range of leak events.  Operating companies get to see how well different technologies function in simulated leak events and the technology vendors get detailed data that can help them fine tune their systems to detect leaks faster and more reliably. In the end, this type of program helps to improve the performance of the instrumentation system and helps guide appropriate installations so that the systems operate as expected and needed by the end user.


Fibre optic cable being monitored.
Developing Automation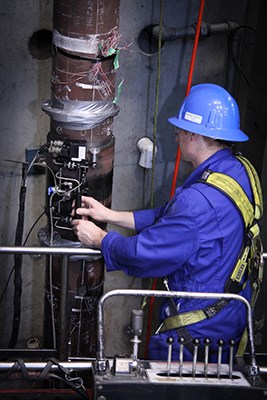 C-FER staff evaluates the quality of a seal in a premium well casing connection using Ultrasonic Reflection Amplitude Pressure (URAP) technology prior to specimen testing.
C-FER develops commercial automated systems to address specific industry challenges. For example, a small service company was developing a method for improving the accuracy of locating gas leaks in wells that are to be abandoned.  The regulations require that any leaks must be repaired and the repair confirmed by monitoring the gas flow rate from the well. The recommended practice for monitoring the gas flow rate was to connect a hose to the wellhead and place the other end of the hose in a container of water so that the bubbles of gas coming from the well could be counted.  This method relied on the observations of the operator and provided no independent record of the measurements.  This method was significantly improved by building an automated low-rate gas flow meter that could be attached to the wellhead and left to monitor the well for hours or days to prove that a well has no leaks and is ready for abandonment.
In another case a system was developed to perform ultrasonic inspections of the quality of the seal formed when premium well casing connections are made up. The tool automatically scans the seal surface to provide a map of the distribution of stress on the seal. It can identify areas of high stress where galling has damaged the seal or areas of low stress where defects or damage prevents proper engagement between the seal surfaces. So far, this system has been used in the lab setting for qualification programs and in pipe mills to confirm connection make up for new products.  There is also potential with an updated version of the system to confirm proper connection make up on the rig floor as the casing is being run into the well.
What's next? A tour of C-FER's second facility happening October 26, 2015! Sign up for the ISA Edmonton Section's ISA INSIDER and we'll send you more information about this event in the fall.