November 27, 2017 | MKT Fresh Food & Beer Market
How Mobile Robotics Is Transforming The Future Of Manufacturing & Logistics
As industrial mobile robotics continue to become faster, more versatile and cost-effective, industry is experiencing a major shift in manufacturing & logistics. Manufacturers are increasingly incorporating mobile robotics to improve competitiveness and increase market share.
How does robotics fit in? Are robots threatening our jobs or are they protecting them?
The price of robotics is trending down as capabilities are increasing; when is is it time to invest?   
This technical talk will provide an overview of the latest trends in mobile robotics, and include examples of how industry has successfully incorporated them. 
Speaker Overview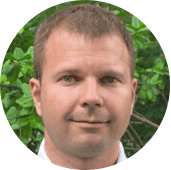 Jeff Renaud, Robotics Specialist, Omron
I began my career as a robotics technician in the early 1990's, I spent several years as an electro mechanical and industrial process engineer from 2000 to 2004. In 2004 I founded and operated a systems integration company "Weltex Robotics", designing building and supplying custom robotic welding equipment primarily to automotive manufacturers in Southern Ontario, northern USA, Texas, Mexico, and Brasil. Weltex Robotics was also the national distribution channel for Dengensha America. After Weltex Robotics I began working at  ABB robotics, where I was a program manager responsible for complex assembly systems used in a number of industries, Aerospace, automotive, mining, and consumer goods using a number of complex vision and tracking applications and collaborative robots. 
At Omron, in addition to supporting growth in established industries, I am responsible for finding and developing new markets for conventional and autonomous robot technology with a focus on retail, logistics, and agricultural applications. 
Schedule of Events
5:30pm - Check-In, Drinks & Networking
6:00pm - Gourmet Chilli Feast (includes a meat lovers' or vegetarian option, fresh buns and a drink)
6:30pm - Event Welcome & Presentation
Location & Directions:
MKT Fresh Food & Beer Market - 8101 Gateway Blvd - Get Directions
Meeting Area - Private Upstairs Function Space
Registration: