November 26, 2018 | MKT Fresh Food & Beer Market
It's our last event before our December break... hear from Mike Kohlenberg, Associate Vice President of Utilities at the University of Alberta. The Utilities Group operates that largest district energy system in Canada. It supplies heat, power and chilled water to more than 100 buildings on UAlberta's North Campus, including the Walter C. Mackenzie Health Sciences Centre, the Cross Cancer Institute, the Jubilee Auditorium and the university itself, as well as the UAlberta's South Campus, Augustana Campus, Campus Saint-Jean, Enterprise Square and many other university sites. More than 70,000 people use their services each day.
The Utilities Group also encompasses the Energy Management and Sustainable Operations business unit. This group works to reduce the environmental impact of the University. Mike will highlight some of their important initiatives.
His presentation will also include several videos, plus audience-driven technical discussion. Come with questions, he's ready to talk details!
Speaker Bio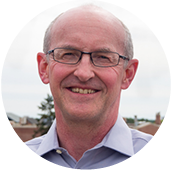 Mike Kohlenberg
Associate Vice President of Utilities at the University of Alberta
Mike holds a B. Sc. in Mechanical Engineering from the University of Saskatchewan as well as a M. Sc. in Process Controls from the University of Alberta.
He considers himself lucky to have had the benefit of exploring a wide variety of different work opportunities in his career including service engineer in the oil and gas industry, applications support and technical sales in industrial controls, various engineering and management roles in utility services, as well as time in a research environment, and growing up and working on the family farm.
In his spare time, he is an avid cyclist in a number of disciplines and enjoys Nordic skiing as well. He also enjoys spending time with family and friends, "building things out of wood" (woodworking would be too strong of a description for his skill level!), and never-ending home renovations.
Event Schedule
5:30pm - Check-In, Drinks & Networking
6:00pm - Festive Turkey Dinner, includes: oven-roasted turkey, mashed potatoes & gravy, stuffing, seasonal vegetables, house salad, fresh baked dinner rolls and cranberry sauce. Vegetarian meal option available.
6:30pm -  Video Presentation + Technical Talk + Open Discussion 
Location & Directions
MKT is located at 8101 Gatewary Blvd. There is a free parking lot to the south of the building.